Friday, June 19, 2015
Relaunch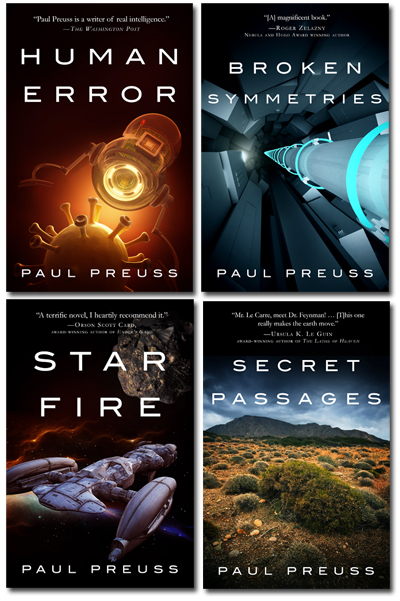 More than an excuse, I've been given a directive to reactivate my blog, update my website, and generally show up for duty on social media, starting now. The occasion is the reissue of four novels by Diversion Books, an innovative new publisher with a strong position in digital publishing and plans for more.
The big day is this coming Tuesday, June 23. Each of the four novels tells a story in which the characters grapple with the implications of different kinds of science: Human Error is about nanoscale biotechnology and the ultimate Turing Test, while Starfire is about an inertial-fusion-powered rocketship's tangle with the sun. Broken Symmetries is about extreme particle physics, and its sequel, Secret Passages, is about quantum mechanics and the archaeology of Crete. Every book is about other things too, of course; more information is on the fiction page of my website.
In an evolving age of publishing, a lot of authors complain about publishers who expect them to do all the work. I admit I was one of the gripers, until I met (via email, so far) the staff at Diversion, among the smartest and hardest working crews I've encountered in the business. It's a shared undertaking.
In future I'll blog about some of the scientific subjects raised in the four books, then and now. All are set in the near or slightly alternate future (which for some of them has become the alternate past). In every field where I've had experience as a science writer, from cosmology to materials science to molecular biology, change has been rapid, thrilling, and sometimes scary. And not just in science. Beyond what's in these novels I'll be visiting topics like artificial intelligence, the Internet of Things, the evolution of the English language, art theft, cellphone networks in the jungle, and more. There's new fiction in the works, and I'll share its progress. I'll be having fun, and I hope you'll join me.